It started like any other booking, with a consultation call where I share all the exciting details of booking a boudoir experience. As we went through the conversation, I could hear excitement, and then fear would jump in. I'd answer her question and joy would pop back in. Ultimately, all her questions were answered and the fear fell away. "Nerves are normal," I told her. That doesn't go away until we get started, and that's okay.
Vanessa's session was scheduled four months away, because she wanted to celebrate her very existence in this world, which also happened to be her 40th birthday. We curated a custom list of wardrobe pieces that she could shop from based off all the fun questions I asked her in our Face Time call. After going through the details of her dream boudoir session, we were thrilled with what we'd be creating together!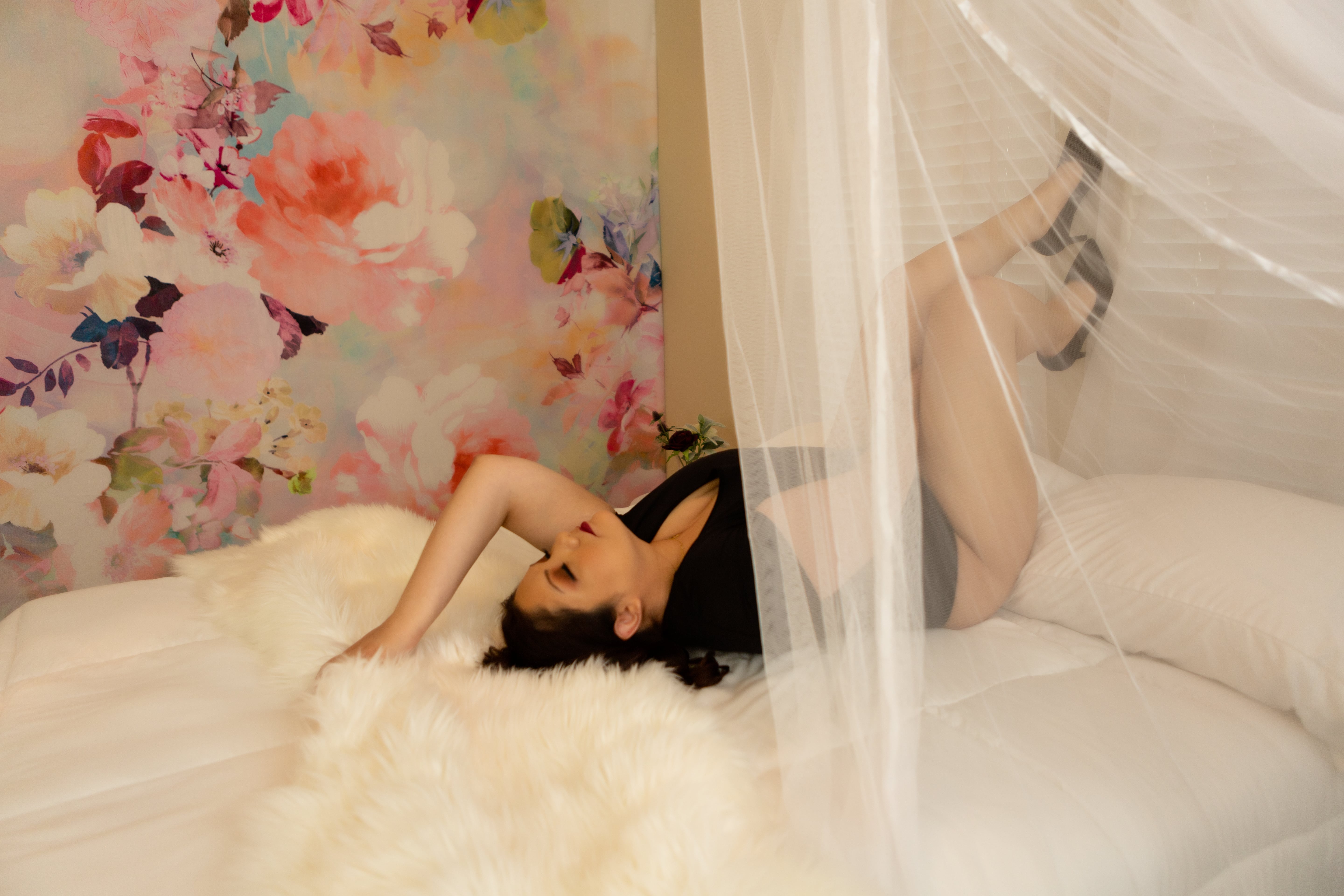 Leading up to her session date, there were moments of doubt that Vanessa had, and she openly shared she was thinking of cancelling. I don't blame her, after all, what she shared of her story with me left me surprised that she even opened up at all. We jumped on a call and I talked with her, reminding her of her why, and that she's worthy. Worthy to feel beautiful, empowered and to just exist. And just like that, her excitement returned.
The day finally arrived and Vanessa followed my every direction to prepare for her session, including coming in with her pajamas on and no bra. That's right, just roll outta bed and show up! We got her things inside and whisked her off to hair and makeup. She'd never had her makeup professionally done, not even for her wedding day. Our exceptional hair and makeup artist sat with her and went through expectations, and how the look should turn out. We matched her end result with the colors of her outfits, so that it all looked cohesive.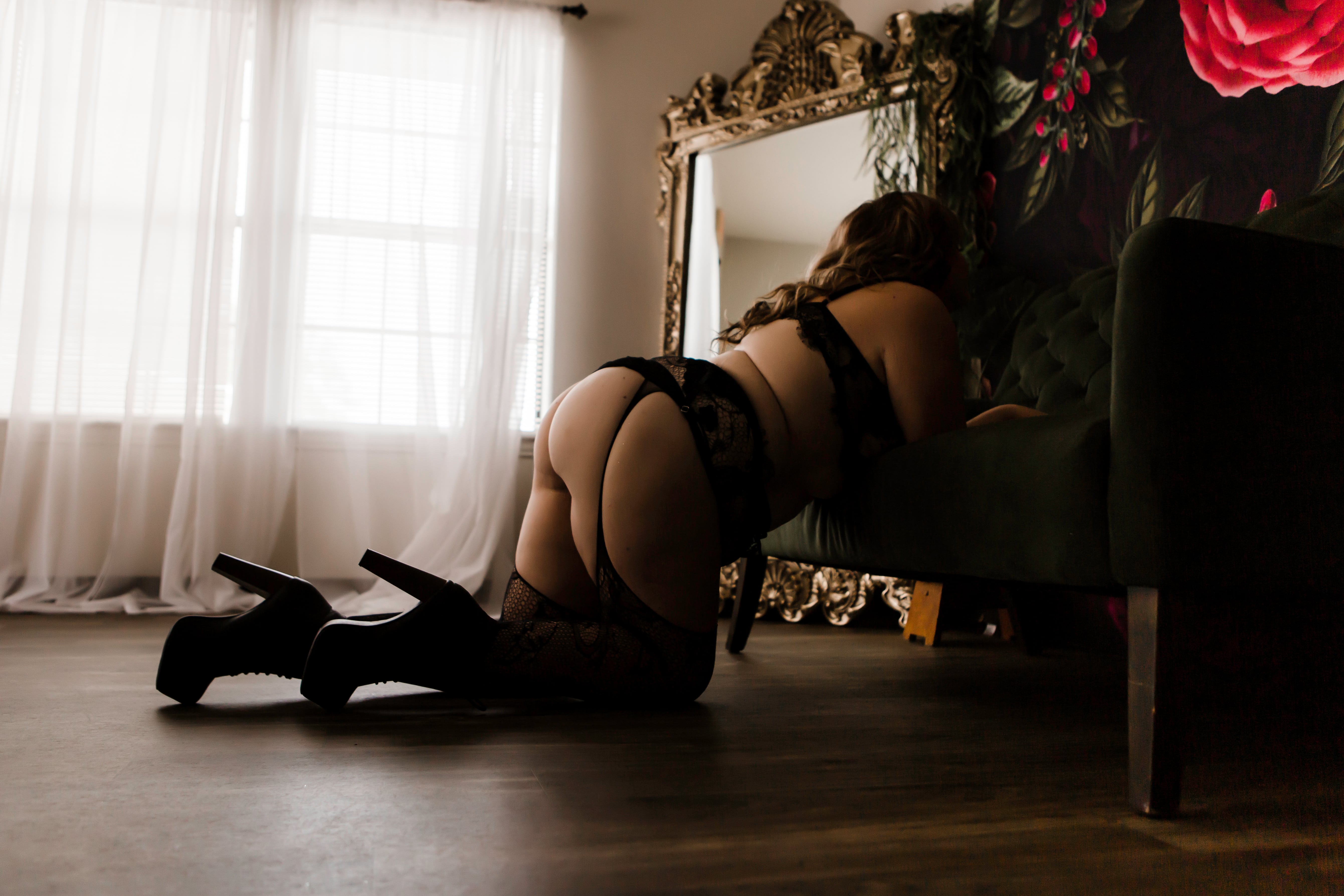 When Vanessa finally looked in the mirror, it seemed as though shock was the first emotion to cross her face. She raised her hands to her face and skipped right up to her hair to brush her bangs behind her ears. Two seconds later and a huge smiled cracked across her entire face, leading all the way up to her eyes. She turned to Dani and hugged her. "Thank you for making me, look like me. I thought you were putting way too much, but it looks so natural!" We all laughed. Boudoir makeup is much different than your average application, so I wasn't surprised she thought that.
It was time to get dressed for her first outfit. Vanessa came out, and as I helped her snap her garter straps, I said "The first one is always the weirdest and you don't get as many good ones, since it's like a warm-up. This is the one where we get use to working together". We took 3-4 pictures and I showed her the back of the camera. She was stunned that it was her. I could immediately see the confidence building in her eyes. So much for not getting many good shots!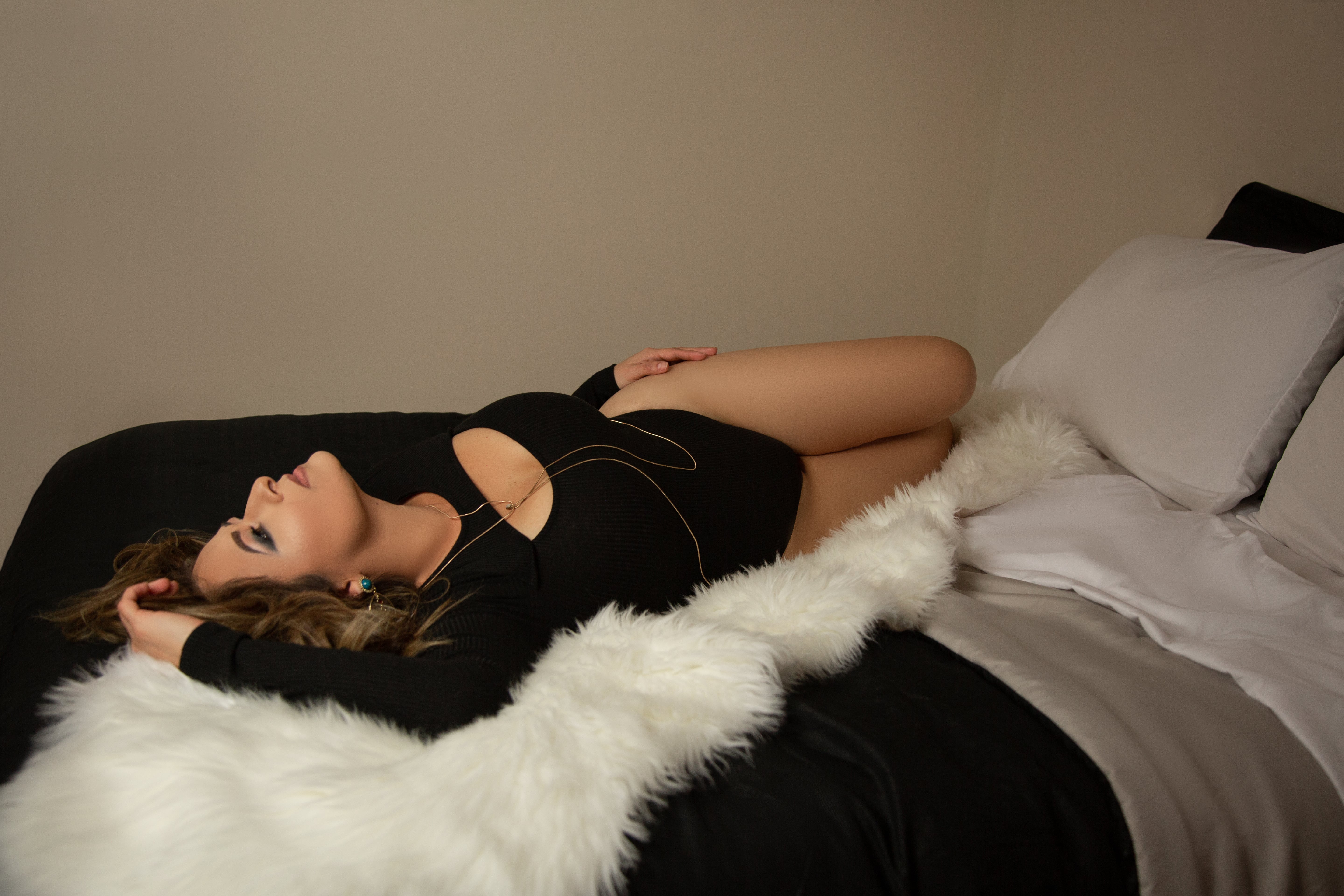 After that, the session seemed to fly by. She followed my every cue. A stunning, sultry woman was emerging that hadn't been there in years. She'd pushed it all away her entire life, but in this hour we photographed, she let it all out. This was her moment, and I was in awe, hoping this confidence would last a lifetime. I asked her if there were any poses she wanted to try that we didn't do already. There were two she wanted, so we did those and called it a wrap.
It was time for a lunch break while I edited images for her. Vanessa came back to the studio after a well earned meal. Posing is no joke! The slide show started and the tears did too. She said "YES!" to almost every image and couldn't bare to narrow down any. We managed to knock off a few and I helped her choose which images to pair together for her metal wall gallery. She added some fun poker cards to play with her girlfriends and a retro view finder to display some more private images.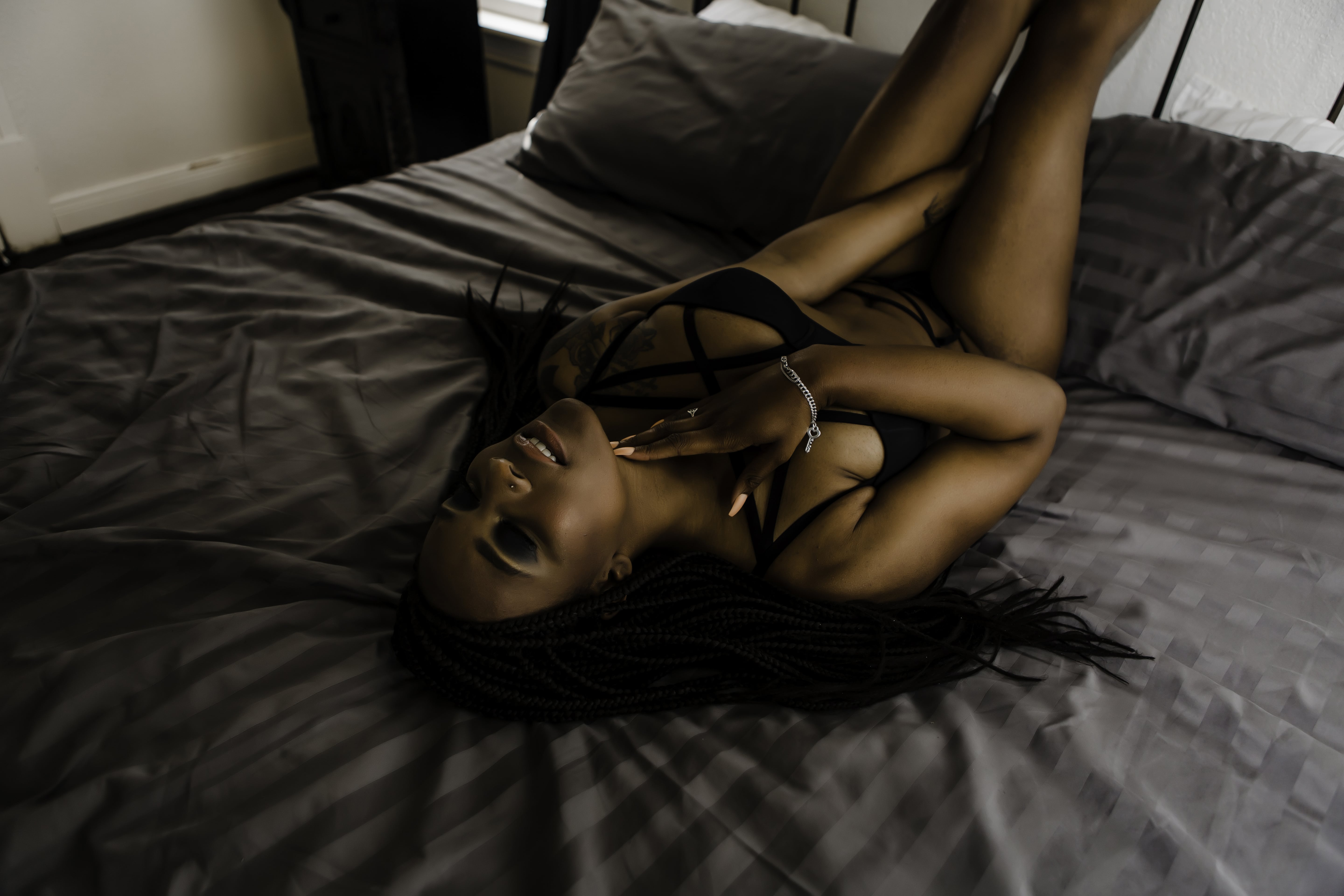 This session was so emotional, it left me exhausted and filled with so much joy. Every woman that walks through my door has a story. Though many may be similar, none are the same. A different time in life, different circumstances, different outcomes. All are brave. All are worthy. It is my absolute honor to be a small step in their journeys. Thank you, Vanessa, for choosing me and being a part of my life too.